Lisa Frank's Cutesy Psychedelic Creations Will Finally Cover Theater Screens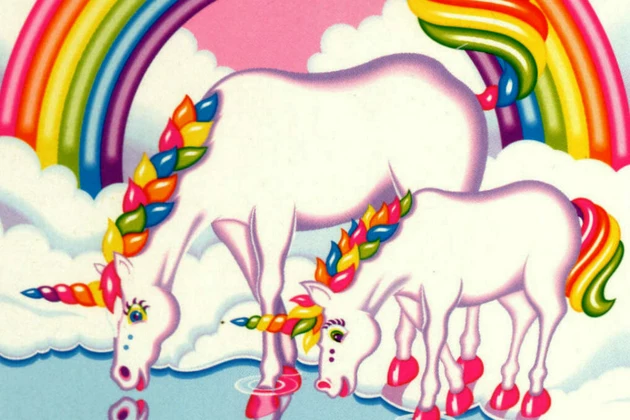 Neon pandas and rainbow-swirled unicorns and bubbly dolphins — that could describe an eight-year-old girl's psychedelic mushroom trip, or Mariah Carey's dream journal, or, more likely, a Lisa Frank Trapper Keeper from 1992. The Frank brand is still keeping the dream of the '90s alive in 2017, and honestly, it's surprising that it's taken this long for her candy-colored creations to terrorize the big screen.
THR reports that a movie based on Lisa Frank's artwork is finally in the works, as the famous designer has finally decided to bring her colorful characters to a theater near you. John Shestack, who produced the upcoming teen drama Before I Fall (like Groundhog Day for Mean Girls), is teaming up with Frank to produce the feature film, which will blend live-action with animation — hopefully the former will soften the mind-melting effects of the latter.
"I've always wanted to do a feature film that brings the world of Lisa Frank to life," said Frank, referring to herself in the third person, presumably because her name has taken on a monstrous life of its own. As for the plot of the film, Frank offers an appropriately whimsical response, maintaining the surreal fantasy of her nostalgic '90s dreamland: "We have so much backstory on our characters and they have been alive in my imagination since the beginning."
Frank, who became massively popular with her line of colorful school supplies, stationery, stickers and various pieces of neon-shaded ephemera, is famously reclusive: There are only two known photographs of the designer, who agreed to appear in a promotional video for Urban Outfitters in 2012 — under the condition that they didn't show her face. Frank was the subject of a fascinating Jezebel profile from 2013, which explored the darker side of the artist's fading day-glo empire. (That story could also make for a great film; think Jackie by way of Nicolas Winding Refn.)

Source:
Lisa Frank's Cutesy Psychedelic Creations Will Finally Cover Theater Screens