Kenny Chesney Announces 'The Big Revival' Album Details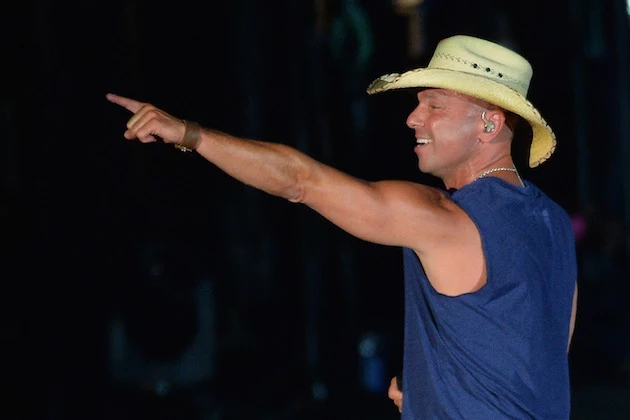 Now that 'American Kids' has hit country radio, Kenny Chesney is ready to announce his new album. 'The Big Revival' will drop Sept. 23, and judging by the success of the first single, it'll be one for the books.
The 46-year-old singer took some time off from the road to make sure this forthcoming album would be perfect. So far, he's off to a good start — 'American Kids' has already topped the iTunes Country chart.
"The whole point of taking the time to get to a really creative place was to have the room to look at not what we'd done, but where we wanted to go," Chesney says in a release. "After all this time, if I can't push myself and give the fans something that inspires them, that gets them pumped up, there's no reason to just make a record to make a record."
Chesney had a hand in co-producing his fifteenth studio album alongside Buddy Cannon. He's also got a slew of guest appearances on the record from artists like Alison Krauss, Dan Tyminski and Grace Potter. The 11 songs on the record go from high-energy to ballads, and the country superstar made sure to push himself for this record.
"I think in anyone's life, there are times when you just need to shake things up, really push yourself and find the thrill of what you do again," Chesney explains. "I went to dirt floor church revivals with my grandma as a little kid, and that power is electric. Scared me to death, but it shows you what it means to be alive. I think bringing that sort of passion to how you live your life is everything — and it's so easy to lose touch with."
Chesney wanted his music to stand out from the norm in country these days.
"There's so much more to country than trucks, creek beds and cut-offs," he says, laughing. "That stuff is fun, but when you look at how people really dig in and work, the things they face every day, you wanna remind'em how hardcore they really are, show'em that and also show'em that you know there's more to'em than people might think."
See Kenny Chesney and Other Huge Stars Shirtless
Subscribe to B105 on
Source:
Kenny Chesney Announces 'The Big Revival' Album Details